RunMarisRun / Marmaris Half Marathon
Started off for the first time with the collaboration of Uzunetap and Marmaris Municipality, RunMaris Run Half Marathon will be run for the second time this year on April 1, 2018 to bring together all the runners from every age group.
The race will be run in 21,1 km (half marathon), 10 km, 5 km (public marathon) and for kids, 0,5 km MiniMaris categories. A weekend full of concerts, pasta party and lots of fun activities as well as sports is waiting for you!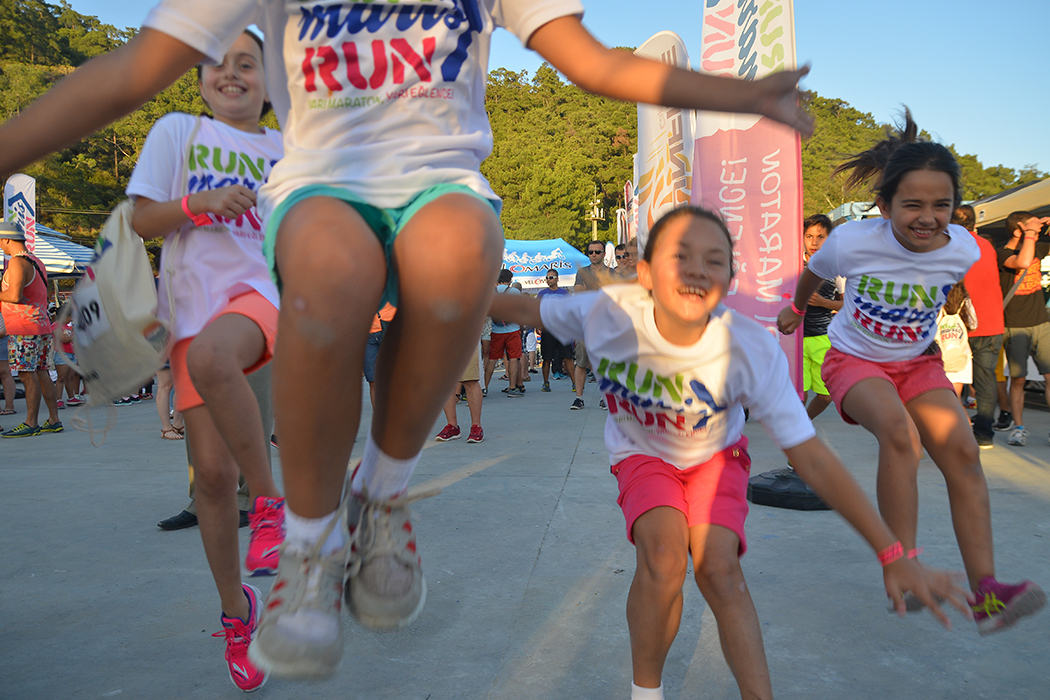 Categories & Classifications
21,1K/ Half Marathon
Track Duration: 2 hours 30 minutes
Half Marathon is ranked in below 35, 35-39, 40-44, 45-49, 50-54, 55-59, 60-64 and 65+ groups separately as men and women.
Runners who ranked will be awarded with a ranking medal. There will not be anymoney prize.
10K
Track Duration: 1 hour 30 minutes
There is no ranking in 'age' category for 10K. A general ranking is made in 2 categories as men and women.
5K
Public Marathon / Track Time: 1 hour
There is no ranking in 'age' category for 5K. A general ranking is made in 2 categories as men and women.
MiniMaris / Kids Marathon / 500 m
Age 6 (birth year 2012) 
Age 7 (birth year 2013) 
Age 8 (birth year 2014) 
Age 9 (birth year 2015) 
Age 10 (birth year 2016) 
Age 11 (birth year 2017) 
Age 12 (birth year 2018)

* All age groups start the race simultaneously. The first 3 young runners in each category are awarded with a medal and small gifts.
Rules & General info
• RunMarisRun is held within the rules of IAAF.
• Race and race track is controlled by Turkey Athleticism Federation.
• It is mandatory for the participants to fill in the form in the registration section and deposit the participation fee to partake. The form must be completely filled.
• The chest numbers which are mandatory to carry throughout the race will be delivered at the registration desk at the start point on Saturday.
• The participants of Half Marathon and 10 km categories must be 18+.
• There is no age limitation for 5 km Public Marathon.
• The liability to participate belongs to the competitors themselves. There is no refund in case of failing to participate or cancelation of the registration.
• Unless the organizer informs about the cancelation of any category, the category is run regardless of the number of participants. There is no refund in case of low participation.
Provided Services:
• Medal of achievement for all participants
• Cup and money award for ranking runners
• T-shirt
• Registration bag for runners
• Pasta party
• Check points on the race track – water and fruits will be provided at the check points
• Ambulance service through the duration of the race
• Ranking with electronic chip system

Disqualification
• Giving the chest number and the chip to another person is a disqualifying foul.
• Leaving the race track or changing track results in disqualification.
• Failing to pass from designated check points for each category is a disqualifying foul.
Registrations & Applications
Registrations are done online. You can make your pre-registration by filling out the required information on the 'Registration' tab, and complete the registration by making the payment. Once you've finished your registration, a confirmation email will be sent to your inbox. In case the automatic confirmation mail doesn't reach you, please check your spam folder and inform the organization team from info@uzunetap.com. Runners who have completed they registration may check their names have in the 'Registered Runners' list.
The competitors can collect their kits on Saturday, April 8 at the kit distribution point in Netsel Marina after showing their ID. Participants who fail to do so on Saturday, may retrieve their kits on Sunday, April 9 at 08:00-09:00 before the race starts.
Liabilities & Insurance
The participants are responsible for participation to the event. Organizer company and Marmaris Municipality are exempt from any liabilities including accidents and lost belongings and other gear. A health check before the race is advised for all participants. Upon the reception of the entry documents, all participants accept that they and their team do not have a condition preventing them from participating in the race.
All athletes are insured by the Turkish Athletic Federation (TAF), in accordance with the road reaches regulation of the federation. The insurance costs are covered by the organizer company.
Race Program
The program on Saturday, March 31 starts at 10:00 with registrations and delivery of the kits to continue with various activities and pasta party in the Marina. The races start on Sunday, April 1 and the event ends at 12:30 with the award ceremony.
Saturday, March 31, 2018
10:00 – 17:00
Delivery of the race kits and chips
12:00 – 17:00
Booth area activities – Social activities
18:30 – 21:00
Pasta Party – Concert (Marina)
---
Sunday, April 1,2018
08:00 - 09:00
Delivery of the race kits and chips
08:30
MiniMaris start
09:00
MiniMaris Award Ceremony
10:00
Half Marathon Start
10:15
10K start
10:20
5K start / 2k (Public Marathon) Start
11:30
(Concert)
12:30
Award Ceremony
13:00
(Concert)
Race Track
Race starts in front of Netsel Marina. Passing in front of Atatürk Memorial continues alongside the coast and returns from İçmeler last point. The track ground is a cobbled road. The track is marked at certain intervals and water will be available every 2,5 km. Track info and return points for each category are indicated on the map below.
Participation Fees
The latest date for registration is March 31, 2018. The participation fees per category are as follows:
| | | |
| --- | --- | --- |
| Category / Date | Until February 28, 2018 | Until April 3, 2018 |
| Half Marathon | 50 TL | 60 TL |
| 10 km | 40 TL | 50 TL |
| 5 km | 30 TL | 40 TL |
| MiniMaris | 10 TL | 10 TL |
Transportation
Free shuttles will be operating hourly (from 10:00 to 17:00) from Marmaris Bus Terminal to the race area on Saturday, March 31.
Leaving Point: Marmaris Terminal
Arrival Point: Atatürk Memorial Area
For flights: There are 'Havaş' and 'Muttaş' shuttles for transfers from Dalaman Airport to Marmaris. You may use the links to plan your trip.
www.havas.net/tr/Hizmetlerimiz/OtobusHizmetleriVeOtopark/OtobusServisNoktalari/Pages/Dalaman.aspx
muttas.com.tr/hizmetlerimiz/havaalani-yolcu-tasimaciligi#marmaris
Accommodation
D- resort Grand Azur Hotel is preparing advantage accommodation packages for RunMarisRun participants in 2018!
Tips & Suggestions
Please have a health check before the race. Those with respiratory and hearth conditions must not participate. You must be well rested and have had adequate sleep the previous night. On the race day, have your breakfast early and avoid acidic and alcoholic drinks. Make sure you wear your sneakers with socks. Applying cream on your toes may prevent after-race sores. In case of any health problem during the race, leave the track to ask for medical help from the responsible staff.
For a successful run, adequate training, fitness and health are essential. Participants are responsible for their health and fitness conditions.
Past Events
---
2018 Results
---
2017 Results
---
RunMarisRun 2016 Results
21K
21K Listing by age and gender groups
10K
5K
MiniMaris
Booths & Sponsorship
RunMarisRun Half Marathon provides the brands many display areas for the best visibility and interaction with the participants and locals.
The third event in 2018 will be enlivened with fun social activities all through the event. Here, you can promote your products and brands at the booths. You can also provide an influential international and local media visibility through sponsorships.
Contact us to set up a booth, collaborate and sponsorships at RunMarisRun!
Contact:

Ecem Eroğlu
(P): +90 212 229 10 40
(GSM): +90 532 404 51 76

Özgür Çelikkaya
(P): +90 212 229 10 40
(GSM): +90 555 631 34 61
Email: info@uzunetap.com